It all began in 1878 when Henry Simon established Henry Simon Ltd, a company that was to become a world famous organisation - the Simon Engineering Group.
His energy and enterprise were the principal driving force in the technical revolution that swept the British milling industry, by the gradual–reduction of the roller process and firmly establishing the Simon system of milling.
It is nearly impossible for a miller to witness a mill without a Henry Simon equipment in it.
LOULIS Flour Mill, Toshevo, Bulgaria
The Mill Renovation for Loulis Group is handed over by Henry Simon.
Being one of the oldest milling groups in Greece, Loulis started the business in the 17th century with a water-driven stone mill at Aetorahi, Ioannina.
Today the group is one of the leading milling companies in Greece, and currently active in Greece and Bulgaria with four manufacturing plants. The total milling capacity of the group is around 1,400 TPD (Tons per Day) with also having their own nationwide distribution network.
Loulis recently made a new investment by purchasing an industrial mill in North-East Bulgaria (Dobrich region) through its subsidiary company Loulis Mel - Bulgaria EAD. The investment focuses on serving the growing demands in Balkans including Bulgaria and Romania.
The new mill facility has 100 TPD semi-hard wheat processing capacity and 9,000 metric tons capacity of steel storage silos, located on a plot of 21,000 sqm. The mill was completely established as a turnkey project by Alapala in 2015. The mill is upgraded again by Henry Simon to satisfy the increasing flour demand from the region in 2019 after it has been taken over by Loulis Group.
The mill has gone through significant changes with the state-of-the-art engineering and renovation work.
The capacity of the mill is increased from 100 TPD to 130 TPD with new process design and modern milling machines. The renovation covers replacing the old equipment by six Henry Simon direct pick-up roller mills (HSRM) and two plan sifters (HSQP), with Advanced Sensor Technology.
The mill has also silos that can hold up to 430 metric tons of flour, 100 metric tons of bran silos, moreover, a final product warehouse with a capacity of more than 750 metric tons. Product handling is carried out with pneumatic and mechanic transportation equipment, which conforms with EU operational safety standards and protection rules.
The mill's operation is controlled with an advanced automation system including Scada software, that allows a centralized monitoring of the entire milling process and generating detailed reports on production data (input, extraction, production output, etc). The system overall provides excellent process control and traceability.
The mill also has an ultra-modern chemistry laboratory including an experimental bakery, to carry out advanced flour tests and ensure the highest level in product quality and standardization for its customers.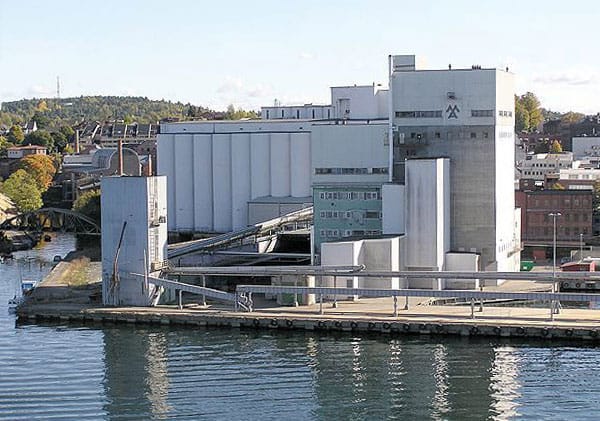 MOSS AKTIEMØLLER (now, Lantmännen Cerealia), Mossefossen, Norway
Moss Aktiemøller - Now Lantmannen Cerealia AS's heritage goes all the way back to the 19th Century. It was an established who initiated the very first developments in the milling industry.
The family business – Henr. Gerner & Søn who owned six of the ten mills in Mossefossen, mills, built it to become one of Northern Europe's most modern rolling mills.
In 1891, the company was converted into a limited company, thus it was named as Moss Aktiemøller.
The mill workers founded the first trade union in Moss in 1892.
In the 1930s, Moss Aktiemøller built several operating buildings at the outlet of Mossefossen, and eventually most of the business was gathered there, moreover, the 36-meter-high silo in a town called Storgata was built in 1939.
In 1977 a new and modern mill building was built next to the large grain silo. This also became the first mill in the world to use computers.
Nora Industrier was known for food production, and the power production at Moss Aktiemøller was thus closed. Fortunately, oatmeal was invested, and in 1996 a new, modern mill was installed. At the same time, it was decided to shut down wheat flour production in Moss.
For this reason, the company was supported by SND to start up a new business. This would be the company's new road - from mill to food factory. A new and modern cereal factory was established and today famous brands such as Axa Go'dag and Bjørn oatmeal are produced in Moss. The name of the establishment is Lantmännen Cerealia, now.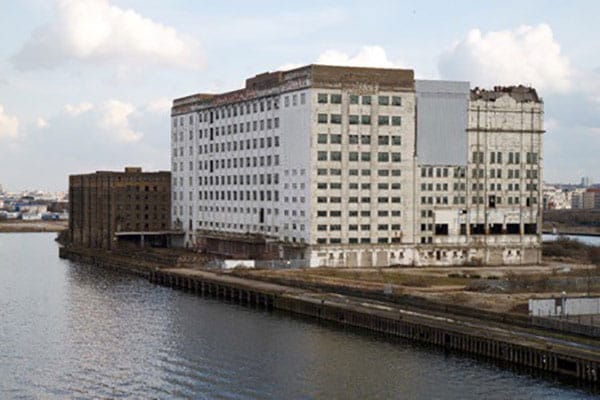 Millenium Mills, London, UK
Millennium Mills was designed and built by millers William Vernon & Sons of West Float, Birkenhead in 1905 with construction overseen by W. A. Vernon, the principal's son. The mills were extensive, featuring two plants, equipped by Henry Simon Ltd, that had a capacity of 100 sacks per hour.
W. A. Vernon described the mills in a single word as "palatial". Vernon and Sons named the mill after their most successful product, a flour variety which they called "Millennium Flour" after winning the "Miller Challenge Cup" at the 1899 International Bakers Exhibition.