4 Districts Meet in Sandunsky, Ohio
25.09.2019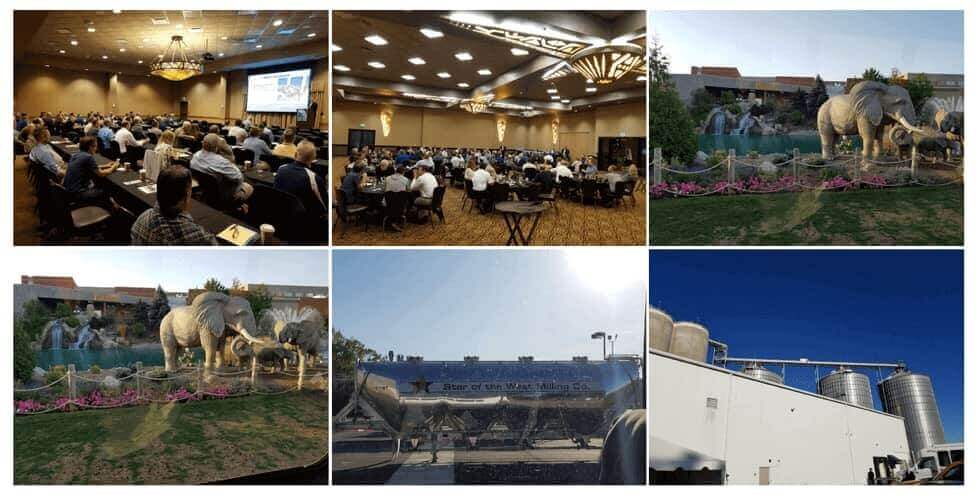 4 Districts Meet in Sandunsky, Ohio
Ohio Valley, Niagara, Southeasternand Wolverine Districts' Joint Conference
September 26, 2019
Four Eastern Districts Meet
Four of the IAOM districts held their annual meetings together in September at the Kalahari Resort in Sandusky, Ohio, U.S. More than 140 attendees participated in the three-day event, which included a golf tournament, social and networking events, a day of technical offerings and a tour of Star of the West's nearby mill in Willard, Ohio. Ohio Valley District Chairman Ed Gwirtz, The Mennel Milling Co., facilitated the successful networking event of the Niagara, Ohio Valley, Southeastern and Wolverine districts at the resort on the shores of Lake Erie.
The Woussickett Golf Course hosted 43 golfers in gorgeous temperatures on day one of the event. A variety of hole-in-one and closest to the pin challenges greeted golfers throughout the course.
Later that same day, participants gathered for a kickoff social event sponsored by Great Western Manufacturing and REPCO.
A full day of technical and what's new presentations earmarked the conference gathering Thursday. Gwirtz welcomed conference goers and IAOM President David Jansen, Siemer Milling Company, provided an update on the association's international activities and events.
Tom Sargent, IAOM director of professional development, reviewed a variety of resources and training opportunities for IAOM members. He also noted ongoing updates to the IAOM mobile app, iaom365 which can be downloaded from the Apple or Google Play stores for free.
The morning presentations were on reliability-centered maintenance, improving uptime with insight, and pneumatic conveying.
Afternoon technical sessions included wheat kernel heat treatment, pest prevention and monitoring, in-house sifter maintenance practices, site security for food defense, and an overview of NFPA 61. The joint district breakfast was sponsored by Corbion. Breaks during the day were sponsored by Premier Tech and Clear Creek & Associates. Lunch for attendees was sponsored by Todd & Sargent and Industrial Magnetics, Inc.
A table top exhibition featured the industry's leading equipment manufacturers and service providers.
Each district met for a business meeting and to elect new officers for the coming year. That evening, members joined together again for a pre-banquet reception sponsored by Kice Industries and Sangati Berga. The entire group enjoyed a banquet following.
On the final morning of the event, attendees boarded buses to tour the Star of the West mill located in Willard, Ohio.
District Leadership
Ohio Valley District
Director Steven "Red" Michel, Star of the West; Chairperson Kenny Stice, Siemer Milling Company; Vice Chairperson Blake Lemley, Mennel Milling; 1st Executive Committeeperson Andrew Garr, Ardent Mills; 2nd Executive Committeeperson Jeff Farthing, Star of the West Milling; 3rd Executive Committeeperson Mary Gleason, Siemer Milling Company; Treasurer Tom Reed, REPCO; and Secretary Jeff Waggoner, Fumigation Service & Supply.
Niagara District Director
Drew Stewart, ADM Milling; Chairperson Daniel Rowe, Ardent Mills; Vice Chairperson Mason Reid, Wilkins-Rogers, Inc.; Secretary Spencer Hickey, Corbion; Treasurer Darryl Tateishi, DT Grain Processing Systems Inc.; and Allied Trades Chairperson Don Elton, Whitelaw Machinery Co., Ltd.
Southeastern District
Director Stephen Banks, Grain Craft; Chairperson Dustin Mariman, Wilkins-Rogers, Inc.; Vice Chairperson Charles McLean, Bay State Milling; Secretary/Treasurer Tom Byrnes, Jr., Blower Engineering; 1st Executive Committeeperson Chris Craft, Grain Craft.
Wolverine District
Director Regan Doyle, King Milling Co.; Chairperson John Steinfort, Star of the West Milling Co.; Vice Chairperson Patrick Nellenbach, Star of the West Milling Co.; 1st Executive Chairperson Bob Likens, Knappen Milling Co.; Secretary Tom Carpenter, Corbion; and Treasurer Rick Davis, Chelsea Milling Co.
Get the latest news on Henry Simon Milling and about the milling industry across the globe.