Henry Simon Mustard Mill Project - iconic brands come together
04.11.2020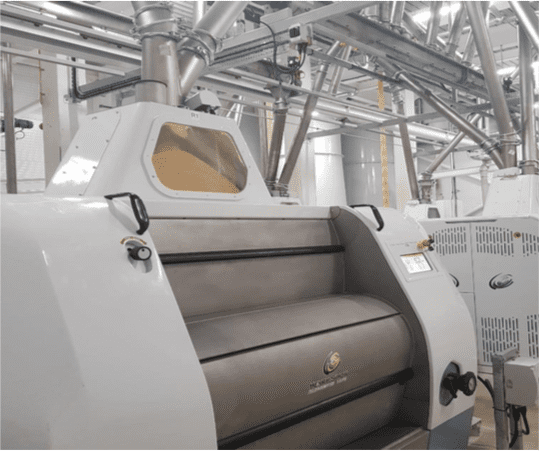 Henry Simon are pleased to announce the successful completion of a new `state of the art` mustard mill in Norfolk, UK.
The iconic brand of Colman`s Mustard has been produced in Norfolk for over 200 years and is one of the most well recognised and respected food brands in the world.
The new mustard mill, built on a greenfield site at Honingham is a collaborative partnership between Condimentum, Unilever, and English Mustard Growers. EMG are a UK farmer`s collective that supply the mill with all their home-grown mustard seed requirements from local growing areas.
Condimentum Managing Director David Martin commented..
'The mill was built following the decision to close the original Henry Simon built Colman's Mustard mill in Norwich and invest in a new site. The new mill produces mustard flour and other speciality products that are packed on site or processed in other facilities to produce mustard paste and a tin packing facility for their very popular dry mustard flour, frequently seen on UK supermarket shelves and for export around the world.
The decision to use Henry Simon, to provide milling expertise and equipment, continues a tradition of partnership with the Colman`s brand dating back many years.'
Henry Simon provided a turnkey package for the design and installation of the mustard mill from seed cleaning and preparation, milling and blending, through to small and large bag packing. Also included was the provision of all seed and flour storage bins, mechanical installation, electrical installation and control system with Supervisory Control and Data Acquisition (SCADA) capability.
Henry Simon milling equipment includes the HSREZS Colour Sorter, the HSRM - one of the most modern roller mill's in the world, the HSQP Plansifter and the HSPU Purifier, all pictured opposite. Collectively they provide the means to produce high quality finished products in a `state of the art` manufacturing environment.
The entire Henry Simon milling project was designed and project managed Satake Europe Manchester, UK. www.henrysimonmilling.com www.satake-europe.com
About Henry Simon:
Henry Simon Ltd established in 1878, as a British company that was to become a world leader in flour milling sector. After building numerous references across the globe for over 140 years, today we keep developing new technologies for milling industry.
---
Get the latest news on Henry Simon Milling and about the milling industry across the globe.