The Mill Renovation For Loulis Group Is Handed Over By Henry Simon
29.09.2020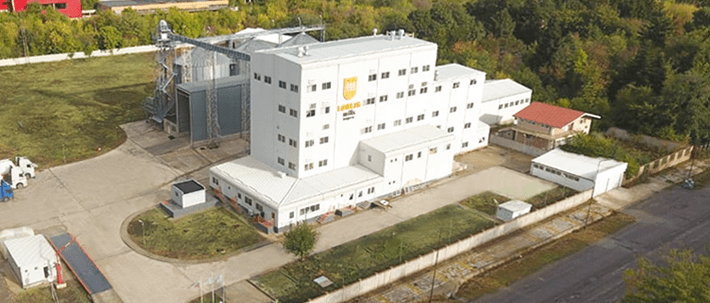 Being one of the oldest milling groups in Greece, Loulis started the business in the 17th century with a water-driven stone mill at Aetorahi, Ioannina.
Today the group is one of the leading milling companies in Greece, and currently active in Greece and Bulgaria with four manufacturing plants. The total milling capacity of the group is around 1.450 TPD with also having their nationwide distribution network.
Loulis recently made a new investment by purchasing an industrial mill in North-Eastern Bulgaria (Dobrich region) through its subsidiary company Loulis Mel - Bulgaria EAD. The investment focuses on serving to the dynamically growing markets of Bulgaria and Romania.
The new mill facility has 100 tons/24 hours semi-hard wheat processing capacity and 9.000-ton steel storage silos, located on a plot of 21.000 sqm. It was completely installed as a turnkey project by Henry Simon in 2015, and; today renovation work is carried out by Henry Simon again after being owned by Loulis Group.
The mill has gone through significant changes with the state of the art engineering and renovation work.
The capacity of the mill is increased from 100 to 130 ton/24 hours with new process design and modern milling machines. As also made by Henry Simon, the renovation work covers replacing the old equipment with six Henry Simon direct pick-up roller mills and two plan sifters, which are in premium series with sensor technology.
The mill facility has also a total of 430-ton flour silos, 100-ton bran silos, and a final product warehouse with a capacity of more than 750 tons. Product handling is carried out with pneumatic and mechanic transportation equipment, which conforms with EU operational safety standards and protection rules.
The mill is controlled with an advanced automation system including Scada software, that allows centralized monitoring of the entire milling process and generating detailed reports on production data (input, extraction, production amount, etc.). The system overall provides excellent process control and traceability.
The mill also has an ultra-modern chemistry laboratory including even an experimental bakery, to carry out advanced flour tests and ensure the highest level in product quality and standardization for its customers.
---
Get the latest news on Henry Simon Milling and about the milling industry across the globe.